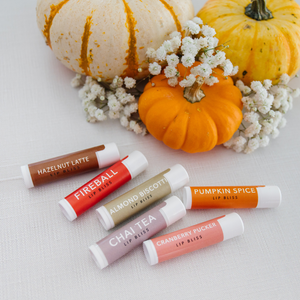 Fall Favorites 6 Pack
Regular price $24.00 $18.00 Sale
Introducing the "Fall Favorites" Lip Balm Pack! A delightful collection inspired by the cozy aromas and tastes of the autumn season. This limited edition pack features six delectable flavors that will remind of all the reasons you love fall.
Almond Biscotti: Dive into the sweetness of freshly baked almond biscotti with this lip balm. Its rich and nutty aroma will remind you of the comforting scent wafting from a cozy bakery on a crisp fall morning.

Hazelnut Latte: Experience the indulgence of a creamy hazelnut latte in every swipe. This lip balm combines the earthy tones of roasted hazelnuts with the warmth of a perfectly brewed latte, creating a comforting sensation on your lips.

Fireball: Ignite your senses with the spicy warmth of Fireball. This lip balm packs a punch with its cinnamon-infused flavor, reminiscent of a sip of fiery cinnamon whiskey on a chilly autumn night.

Cranberry Pucker: Embrace the tartness of fresh cranberries with this lip balm. Its tangy and fruity flavor will remind you of homemade cranberry sauce, adding a burst of autumn-inspired freshness to your lips.

Pumpkin Spice: Fall wouldn't be complete without the classic pumpkin spice flavor. This lip balm captures the essence of pumpkin, cinnamon, and cloves, creating a comforting aroma that evokes memories of pumpkin pies and cozy gatherings.

Chai Tea: Transport yourself to a serene tea house with the aromatic Chai Tea lip balm. Spiced with cinnamon, cardamom, and cloves, this lip balm offers the perfect balance of warmth and sweetness, just like a freshly brewed cup of chai on a chilly fall afternoon.
Each lip balm is carefully crafted with high-quality ingredients to provide nourishment and hydration to your lips, leaving them soft, smooth, and irresistibly flavored. Indulge in the essence of fall with these delightful lip balms and let your lips experience the magic of autumn.
*********************************************************************************************
PRODUCT DETAILS
Smooch Lip Bliss locks in moisture for soft and healthy-looking lips. This rich shea butter formula soothes and comforts once applied. Smooch's sexy sheen and yummy scent will make it your favorite product for lip care!
INGREDIENTS
Prunus Amygdalus Dulcis (Sweet Almond) Oil, Cocos Nucifera (Coconut) Oil, Beeswax, Persea Gratissima (Avocado) Oil, Theobroma Cacao (Cocoa) Seed Butter, Butyrospermum Parkii (Shea Butter) Flavor Oil *Flavor oil may contain stevia.
**Lip Bliss is not tinted with color
HOW TO USE
Apply throughout the day when your lips need nourishment.