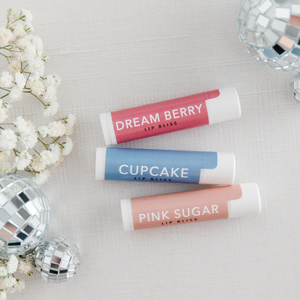 Sweet Bliss Gift Pack
Regular price $12.00 $10.00 Sale
Introducing the "Sweet Bliss Lip Balm Trio" by Smooch, a delightful collection featuring our top three best-selling flavors: Cupcake, Pink Sugar, and Dream Berry. Indulge your lips in a world of irresistible sweetness and enchanting aromas with this limited edition 3-pack.
Cupcake: Dive into the decadent world of freshly baked cupcakes with our Cupcake Craze lip balm. This flavor captures the essence of moist vanilla cake topped with creamy frosting, delivering a delightful burst of sweetness that will satisfy your sweet tooth and leave your lips feeling lusciously smooth.

Pink Sugar: Embark on a journey through cotton candy clouds with our Pink Sugar Fantasy lip balm. Inspired by the whimsy of a carnival, this flavor combines the sugary sweetness of spun cotton candy with hints of vanilla and caramel. It's like a sugary dream for your lips, leaving them soft, supple, and infused with a delightful aroma.

Dream Berry: Experience the enchanting allure of ripe berries with our Dream Berry Delight lip balm. This flavor blends the juiciness of fresh strawberries, blueberries, and raspberries, creating a harmonious medley of fruity goodness. Let the sweet and tangy notes transport you to a berry-filled paradise while keeping your lips moisturized and irresistibly kissable.
The Sweet Bliss Lip Balm Trio by Smooch is meticulously crafted with high-quality ingredients to provide your lips with the care they deserve. Each lip balm in this collection is designed to hydrate, nourish, and lock in moisture, leaving your lips feeling pampered and tasting absolutely delicious. Elevate your lip care routine with these delightful flavors that are sure to make your lips smooch-worthy.
*********************************************************************************************
PRODUCT DETAILS
Smooch Lip Bliss locks in moisture for soft and healthy-looking lips. This rich shea butter formula soothes and comforts once applied. Smooch's sexy sheen and yummy scent will make it your favorite product for lip care!
INGREDIENTS
Prunus Amygdalus Dulcis (Sweet Almond) Oil, Cocos Nucifera (Coconut) Oil, Beeswax, Persea Gratissima (Avocado) Oil, Theobroma Cacao (Cocoa) Seed Butter, Butyrospermum Parkii (Shea Butter) Flavor Oil
**Lip Bliss is not tinted with color
HOW TO USE
Apply throughout the day when your lips need nourishment.